Depending on the traditions in each culture, the significance of a particular physical entity becomes different. The Japanese has always exhibited a vivid interest towards the insects, in particular the fireflies. And the interest has been always something beyond that of sheer entomological activities.
In Sei Shonagon's essay on the four seasons in The Pillow Book, fireflies are praised as "epitomes" of the elegance and beauty of the summer night. "Summer at night. More beautiful when there's the moon. When in total darkness, lots of fireflies airborne to and fro. Or only a few fireflies, leaving traces of faint lights. Otherwise, gentle rain falling all around."
To associate a rich "cloud" of connotations with the sight of this light emitting arthropod has been in the Japanese tradition for a long time, especially in the literary context.
Sei Shonagon's contemporary poet, Izumi Shikibu, associated the firefly with deep emotions of love.
Thinking about my love, even a firefly over the stream, appears to be my soul wandering out in longing.
Indeed, fireflies have been always associated with the longing spirit. Hideo Kobayashi, arguably the greatest critic to bless the Japanese nation since modernization, started his unfinished essay "Reflections" ("Kanso", which analyzed the philosophy of Henri Bergson) thus:
Two years after the great war ended, my mother died. Mother's death affected me deeply. In comparison the war, while historically significant, had only a physical influence on me, leaving my soul untouched. A few days after my mother passed away, I had a strange experience. At that time, my house was located deep in the Ogigaya valley. There was a brook alongside the small path that passed in front of the house. It was already twilight. Out of the gate, I saw a firefly before me. It was large like I had never seen before, emitting quite an impressive luminance. My mother has become a firefly now, I thought. Following the absorbing light, I found that it was not possible to let myself free from the idea any more."
Excerpt from "Reflections" by Hideo Kobayashi. Translated by Ken Mogi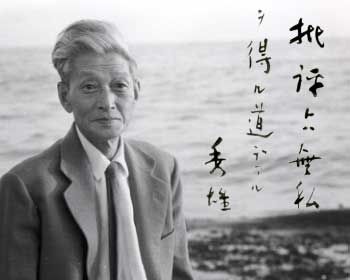 Hideo Kobayashi, with his famous epitome "Hihyo toha Mushi wo eru michi dearu" ("Criticism is a way of attaining non-selfhood.")